Within the ever-evolving world of interior design, trends continuously emerge, captivating our imaginations and inspiring us to grab hold of that inspiration and transform our living spaces. One trend that has recently taken the spotlight is the "Going Gucci" style concept.
This design concept blends futuristic design with retro design to seamlessly merge the nostalgic allure of the past with the sleek and forward-thinking design elements of the future. The trend results in a captivating interior design concept that evokes a sense of creativity and innovation.
Infuse your home with the "Going Gucci" style by pairing key accessories that are prevalent in this design scheme, like embellished wallpapers and luxurious velvet materials with bold colors, unique shapes, and special accents in your furniture. Then, round out your retro-but-futuristic look with the perfect flooring. We've gathered some of our favorite flooring products for you to explore, so you can be on your way to capturing the essence of this designer aesthetic.
Futuristic Design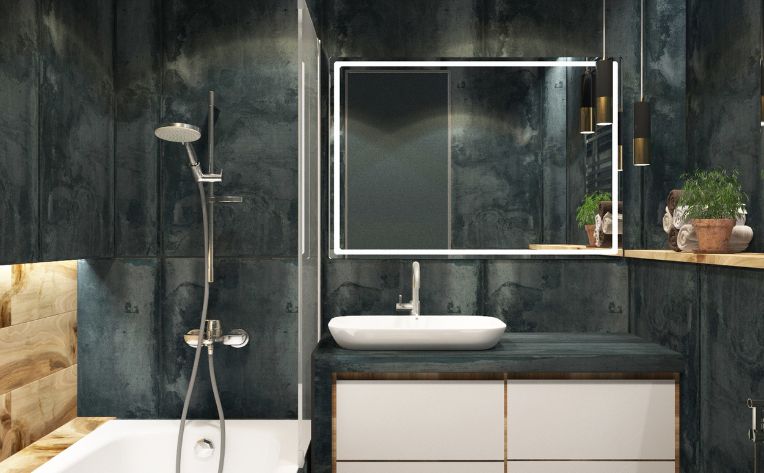 The look of futuristic interior design is a captivating blend of sleekness, ergonomic innovation, technology, and avant-garde aesthetics. Clean lines and minimalistic forms dominate the design, creating a sense of simplicity and sophistication. The color palette in this design scheme often leans towards bold and vibrant tones, with pops of neon and metallic accents, which make for great opportunities to incorporate accent walls. These striking color choices go hand-in-hand with retro design, making it easy to fuse and connect the two.
Materials used while designing this aesthetic embrace a sense of modernity and innovation. Sleek surfaces like glass, polished metals, and acrylics are commonly incorporated and used to evoke a futuristic vibe. Overall, the look of futuristic interior design and architecture is created through a harmonious balance between simplicity, innovation, and visual impact. It creates an atmosphere that is both functional and visually striking, embracing cutting-edge technologies and materials to transport us into a world that seamlessly merges imagination and art with reality.
Retro Design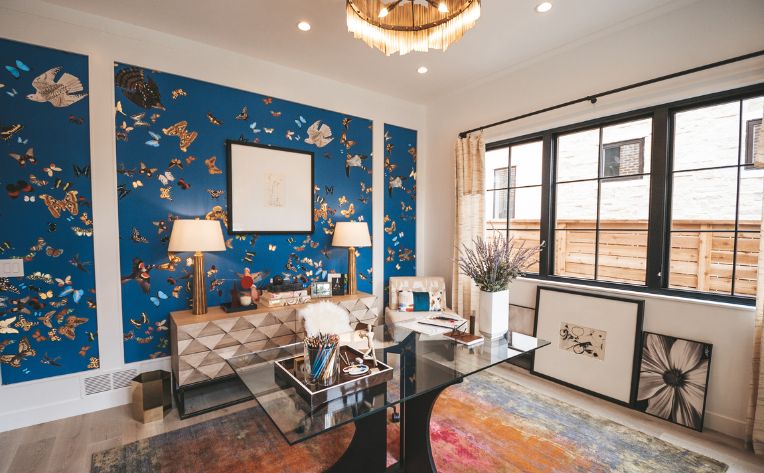 Design by MARGARITA BRAVO Photography by TIA CURRAN
Retro interior design is a delightful journey back in time, celebrating the iconic styles and trends from designers of the past. Inspired by the design aesthetics and architecture of the mid-20th century, retro interior design evokes a nostalgic charm and a sense of whimsy. Bold colors, playful patterns, and unique shapes define this style, taking us back to the vibrant and eclectic eras of the 1950s, 60s, and 70s.
Another defining feature of retro interior design is the use of iconic patterns and textures. From simple, curved geometric shapes to bold floral prints, retro interior design embraces patterns that make a statement and add a lot of visual interest to the space. These patterns are often seen on wallpapers, upholstery, and accessories, lending a playful and nostalgic touch.
Retro furniture pieces, with their distinctive curves and sleek lines, also contribute to the overall aesthetic, creating a sense of nostalgia and charm that harks back to a bygone era. Whether it's a retro-inspired living room or a funky kitchen, retro interior design brings a sense of fun and personality to any space.
Hand-Scraped Hardwood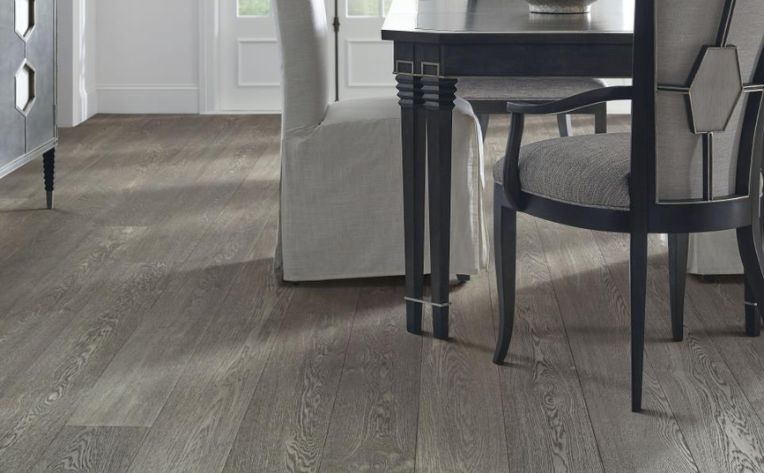 White Oak Hardwood by Flooring America/Flooring Canada
The "Going Gucci" style trend can be characterized by embracing vintage charm and paying homage to the luxurious times of the past. Hand-scraped hardwood flooring aligns perfectly with this vision, as its distressed surface replicates the look and feel of aged, reclaimed wood. This flooring choice in particular offers a unique and stunning blend of elegance, durability, and versatility.
From its vintage-inspired character to its uncompromising sophistication, this wire-brushed white oak hardwood brings a touch of luxury and enchantment to the "Going Gucci" aesthetic design concept, ensuring a visually stunning and enduring foundation for creating your extraordinary interior. You can also play with texture and patterns in hand-scraped hardwood, calling back to 16th century emerging floor designs with herringbone and parquet.
Patterned Luxury Vinyl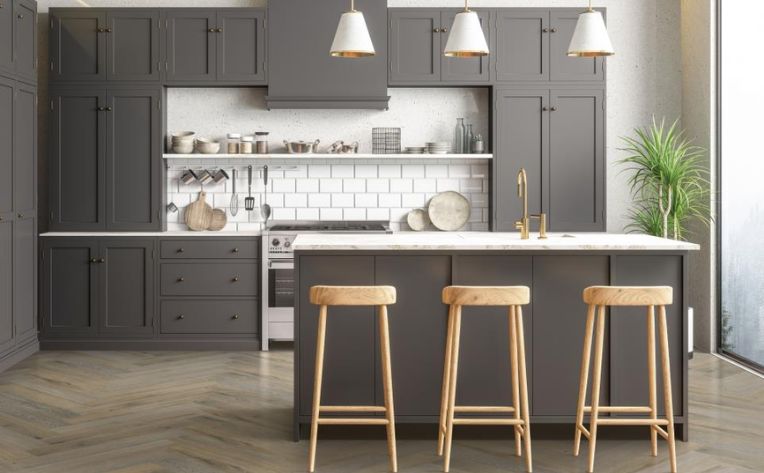 Wood-Look Luxury Vinyl by Flooring America/Flooring Canada
Patterned flooring is a perfect complement to the captivating "Going Gucci" aesthetic. The intricate herringbone pattern of this flooring in particular creates a visually stunning foundation that elevates the overall ambiance.
The luxurious vinyl material not only mimics the look of natural wood but also offers a lot of durability and easy maintenance, making it a practical choice for modern living. Whether used as statement flooring or as an accent in specific areas, patterned luxury vinyl in stone-look or wood-look becomes an integral element in achieving the distinctly bold allure that's the hallmark of the "Going Gucci" aesthetic.
Geometric Tile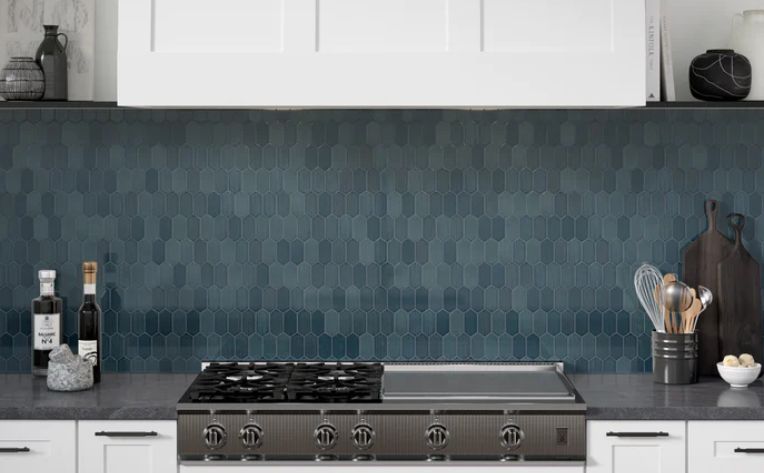 Omni Glazed Porcelain by Emser
Clean lines, symmetrical shapes, and bold patterns dominate geometric tile design to create a visual impact that perfectly complements the eclectic and futuristic design elements of "Going Gucci." The combination of intricate details and precise craftsmanship presented in this tile adds a touch of art and opulence to any room.
Whether used as a statement floor or as an accent in specific areas, this patterned tile becomes a focal point that exemplifies the essence of the "Going Gucci" concept, combining retro charm with a futuristic edge. Its versatility and ability to harmonize with a range of other elements make it a perfect choice for bringing the unique and mesmerizing designs of the retro-futuristic trend into your home.
Whether you choose hand-scraped hardwood flooring or patterned tiles to be installed, your flooring choice plays a vital role in bringing the "Going Gucci" design aesthetic to life. With careful consideration and the right selection of unique furniture, accents, and lighting, your house can become a stunning example of style, functionality, and innovation. Embrace the timeless allure and futuristic design flair of the "Going Gucci" design trend to create a living space that is both enchanting and extraordinary.
Looking for more hot trends to inspire your inner interior designer? Check out the top 2023 flooring trends on our blog!